Fellows 2015-17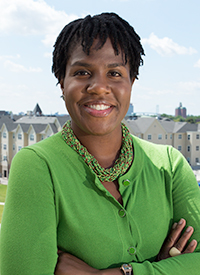 ​Kalisha Davis, Director of Community Outreach & Engagement
Kalisha will serve as Director of Community Outreach and Engagement at the Detroit Historical Society for the next two years. For the past 15 years, Kalisha has turned her passion and commitment to making positive and sustainable change for the benefit of young people into a career that has taken her across the country. She has worked in Washington DC, New York, and California, and returned home to Detroit for the fellowship. Known professionally as a connector, storyteller and innovator, Kalisha has worked with such national organizations such as the Forum for Youth Investment and the National League of Cities' Institute for Youth and Education and Families. Outside of work, Kalisha enjoys learning and experiencing life as much as possible while taking in unique city sights and sounds with friends. Kalisha is a 2011 graduate of the National Urban Fellows Program, through which she earned a Master of Public Administration degree from Bernard M. Baruch College, School of Public Affairs. She holds a Bachelor of Science degree in print journalism from Central Michigan University.
Susan Dundon, Business Innovation Director - Youth Energy Squad
Born and raised in Boston and a Detroiter since 2011, Susan is a passionate social justice advocate. With a bachelor's degree in politics and sociology, a Master of Art in political economy and a Master of Science in global public health, Susan has spent her career working on community improvement strategies domestically and abroad. Her strength lies in working in coalitions and within cross-sector collaborations to tackle a common goal. Over the course of her career she has worked with union leaders, CEOs, heads of state and diplomats to help create economic opportunities to lead people out of poverty and create a strong middle class. In her free time, Susan enjoys hanging out with her daughter, reading, gardening, and volunteering with Seafoam Palace – a museum of wonder and curiosities rising on the east side of Detroit.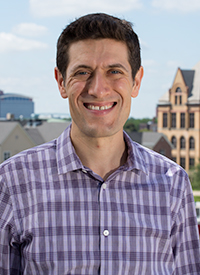 Aaron Goodman, Community Engagement Manager 
 Community Development Advocates of Detroit (CDAD)
Aaron's interest in community-based development has guided his academic and professional path. He earned a bachelor's degree in social sciences and a master's degree in urban planning from the University of Michigan.  A passion for service led him to West Africa, where he worked as a Peace Corps volunteer in Mauritania and Senegal. While there, Aaron collaborated with community and local government partners to improve nutrition and environmental education through gardening programs in the Sahara Desert.  After working with several community development and environmental organizations in Detroit, Aaron joined CDAD as the Community Engagement Manager. In this role he helps build the capacity of grassroots organizations to create positive neighborhood change by connecting them to resources and information. Aaron is a life-long Michigander and proud to call Detroit home.  In his spare time, Aaron can be found enjoying the city's many arts and culture activities or relaxing along the Detroit riverfront. 
Terryn Hall, Manager of Strategic Partnerships
Hailing from Richmond, Virginia, Terryn attended Hampton University and Carnegie Mellon University, receiving her bachelor's degree in public relations and master's degree in arts management. Prior to becoming a Fellow, Terryn worked in various capacity-building roles within multiple sectors. She was in charge of fundraising for arts organizations, led a team as a management consultant, and most recently served as a digital strategist for a health care organization. One of the professional opportunities that she is most proud of is working with the White House on youth health care programming. Terryn enjoys podcasting and blogging because it allows her to tap into her love of public speaking and dialogue. Most Sundays she can be found at church or at brunch.
Ritchie Harrison, Community Development Planner 
Detroit Riverfront Conservancy
Ritchie is a life-long Detroiter. Throughout his life, he has had a deep fascination with urban development, especially within the context of Detroit and its region. Being a natural creative-thinker in difficult situations, Ritchie is passionate about finding scalable and lasting changes that can improve the lives of every Detroiter. His prior work experiences include working closely with Fellows from previous two cohorts of the Detroit Revitalization Fellows. Ritchie Harrison has a Bachelor of Science in Urban Planning and a Graduate Certificate in Entrepreneurship from Eastern Michigan University. He is currently pursuing a Master of Community Development at the University-Detroit Mercy. Seeing the productivity and passion of the Fellows is what encouraged him to apply for the program, as well as the desire to work with individuals who are just as dedicated to the city as he is. Outside of work, Ritchie serves on the board of the Eastside Community Collaborative supporting their non-motorized connections on the eastside of the city. Ritchie also enjoys spending time with family and is an avid runner.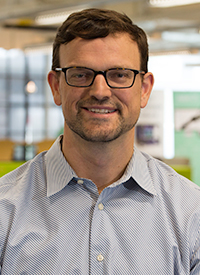 Joel Howrani Heeres, Director, Open Data & Analysis
City of Detroit Department of Innovation and Technology 
Joel moved to Detroit 12 years ago to teach. He quickly fell in love with the city and developed a strong desire to contribute towards its revival. He has since moved away from the education world, where he had focused his work, and into data analytics. Joel holds multiple degrees including a master's degree in urban planning, a master's degree in environmental science policy, a master's degree in planning, education[KP1] , and a bachelor's degree in economics and anthropology. Joel sees data as not just of value to "data geeks," but as a powerful tool for social change and community empowerment. This passion for data fueled his position at WARM Training (now EcoWorks), as he worked with local governments around the region to reduce their carbon emission and energy use. Joel loves spending time with his newborn son, biking, and planting and harvesting from his garden - which he and his family eat from 10 months out of the year!  Joel also volunteers as the president of the Woodbridge Citizens' District Council and with Uprooting Racism, Planting Justice.
Melvin Henley, Strategic Initiatives Manager
Detroit Creative Corridor Center
Born and raised in Chicago, Melvin earned his bachelor's in journalism and public relations at Drake University and a master's in arts and culture management from Queen Margaret University in the UK. Much to the surprise of his friends and family, Melvin decided he wanted to pursue a career in the creative sector his sophomore year of college.  This has allowed him to work in a variety of arts and culture organizations within the U.S. and abroad. A self-described "global professional," Melvin is passionate about promoting intercultural dialogue and creative/cultural diversity both in and out of work. For fun, Melvin enjoys volunteering, spending time with friends and traveling.   
Debra Houghtaling, Director of Strategy
Deb has spent her entire career working in economic and community development.  After receiving her master's in public policy from Harvard University, she transitioned from direct service work to providing technical assistance and financing for small business and housing projects) Over the span of her career, Deb has lived in Chicago, San Francisco and Los Angeles, and rural southwest Iowa. Passionate about social enterprise as a tool for structural change, she has worked for an organization that had a social enterprise, launched and managed a social enterprise as a volunteer, and served on the board of a social enterprise organization. Deb is a self-taught metalsmith who makes jewelry and wall art from materials recycled from historic buildings. Historic preservation is another passion of Deb's – she will gladly talk to you about buildings in her hometown she has played a part in saving.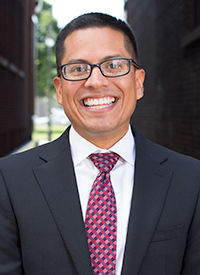 Jeffrey Nolish, Mobility Specialist
City of Detroit, Planning & Development Department 
Originally from Huntington Woods, Michigan, Jeffrey earned a B.F.A in creative writing from Bowling Green State University and an M.P.A from Depaul University's School of Public Service. His resumé includes working as a research assistant to the Metropolitan Planning Council, a policy analyst / community advocate for Detroit City Council Member Raquel Castañeda-López, a policy consultant to the Detroit Land Bank Authority and as an intelligence analyst for the Michigan Air National Guard and United States Air Force. Jeffrey's professional experiences contribute to a unique perspective on a variety of community policies and solutions. For fun, he enjoys playing kickball and volunteering with Detroit's Gladstone Block Club.
Martha Potere, Economic Development Program Manager
Grandmont Rosedale Development Corporation 
After living abroad in five different countries, Martha decided to move to Detroit and earn a graduate degree in urban planning from Wayne State University. Her ultimate goal was to learn about Detroit's past and present, and help to be a part of its future. Martha grew up in Rochester Hills, Michigan, and attended the University of Michigan where she earned a bachelor's degree in political science and honors Germanic studies. She'd always hoped to be part of creating an equitable and sustainable revitalization effort in Detroit that could serve as a model for other cities across the country.  Martha worked a variety of jobs including being a city administrator, a Main Street manager, an English teacher in Japan and as a Peace Corps volunteer. All of these experiences have enabled her to work with individuals from all types of backgrounds, which she loves to do. Personally, Martha is passionate about learning languages and telling bad jokes – a trait she inherited from her dad.  In her spare time, she enjoys going out dancing, camping, knitting and serving as a Returned Peace Corps Volunteer. 
Brittany Sanders, Community Engagement Manager
A native Detroiter, Brittany earned a bachelor's in mathematics from Spelman College and an M.B.A from Carnegie Mellon University. A unique combination of growing up in Detroit, a genuine love for the city and extreme weariness from defending Detroit while living in other states brought her to the fellowship. Brittany has worked for several well-known local and national nonprofit organizations including Teach For America, Focus: HOPE and, most recently, Challenge Detroit, which jumpstarted her career in revitalization efforts across the city. For fun, Brittany enjoys spending time at Detroit institutions including Chene Park, Belle Isle and the Dequindre Cut. She also serves as a volunteer mentor for the Winning Futures program at Harper Woods High School, the board leader for Central Communities SOUP, the historian for the Detroit Chapter of the National Alumnae Association of Spelman College, and is a board member of The Connection Network.  
Charla Sanders, Small Business Program Manager
Detroit Economic Growth Corporation (DEGC)
Born and raised in Detroit, Charla has witnessed the changing landscape of the city in an up-close and personal way. She attended the University of Michigan, where she earned a master's degree in social work and a bachelor's degree in psychology. Taking a macro-level approach to social work in her studies, Charla's professional experiences have focused on community improvement strategies. Her previous experience includes administering multiple federally funded community improvement grants at one of 34 nationwide IHS Urban Indian Health Programs. Most recently, she held joint positions with the John S. and James L. Knight Foundation and the Detroit Economic Growth Corporation, focused on Detroit-centric philanthropy and economic development. In her free time she enjoys bonding with her dog, running half-marathons without training, and indulging in her guilty pleasure: reality television.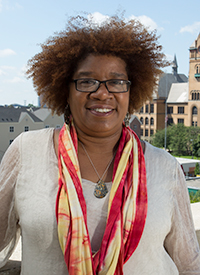 Delphia Simmons, Passport to Self-Sufficiency Director
Coalition on Temporary Shelter (COTS)
After earning Bachelor of Business and Master of Science in Business Administration [ from Madonna University, Delphia decided to focus on business strategies that contributed to the greater good of a community. A native Detroiter, she has worked for the State of Michigan Department of Health and Human Services, owned a small franchise, served in leadership for a private foundation with an overseas mission to feed food-insecure children, and as project director for a $6.2 million homeless prevention program. Her current role at COTS is director of the Passport to Self-Sufficiency, COTS' theory of change to create poverty-resistant families.  Personally, she is passionate about learning, teaching, and brainstorming new ideas that can positively impact communities.  For fun, she enjoys reading, watching documentaries, and riding her bike around Detroit. Delphia also volunteers her time as an adviser to a human trafficking awareness organization and sits on a strategic team that is planning to build a school in Haiti.  
Michael Smith, Director of Neighborhood Strategies
Mike has resided in Detroit for the last 14 years, but was born and raised in New London, Connecticut. He received a Bachelor of Science in geology & geophysics from Yale University and a Master of Community Development from the University of Detroit Mercy. Before his transition to the Detroit Revitalization Fellows, Mike spent 15 years working, first, in the front office of the Florida Marlins and, most recently, as director of baseball operations for the Detroit Tigers. Mike's motto is "everything is either a good time or a great story," and it is this philosophy of being passionate about his career that led him to apply to become a Fellow. Mike enjoys adventures with friends and family and being an active volunteer with the Greening of Detroit, where he serves as a citizen forester and board member.
Jeri Stroupe, Senior Project Administrator 
Office of Economic Development, Wayne State University
Growing up in Rochester Hills, Michigan, Jeri received her bachelor's in exercise science from Miami University and a Master of Public Health from the University of Michigan. In her current role as senior project administrator for Wayne State University's Office of Economic Development, she works on a variety of place-based initiatives, including managing the Van Dusen Urban Leadership Forum, expanding transit and mobility options in Midtown, and helping to promote placemaking and tactical urbanism strategies in the community. Prior to joining Wayne State, Jeri administered programs for the Community Foundation for Southeastern Michigan, Eastern Market Corporation and Public Sector Consultants. Her personal passion lies in in the intersection between place, public health and planning policy to foster healthy and productive lifestyles. In her spare time, Jeri enjoys being active, by running on Belle Isle or biking around the city to visit friends or experience new neighborhoods. 
Leslie Tom, Chief Sustainability Officer
Charles H. Wright Museum of African American History
Originally from Tucson, Arizona, Leslie earned a bachelor's in architecture from the University of Arizona and a master's in information management systems from UC Berkley. Her graduate studies focused on the future of museums, libraries and archives, specifically emphasizing service design and design research methodologies. Common threads in her work build upon facilitating self-organizing and collaborative communities. Her experiences range from software startups, health care technology, serving as the first Knowledge Scholar at the American Institute of Architects in Japan, and working closely with the San Francisco Mayor's Office of Civic Innovation and the National Trust for Historic Preservation.  She is excited to learn more about Detroit and the greater Midwest region.  She enjoys knitting and recently rediscovered her passion for playing the jazz piano.
Patricia White, Technical Research & Resilence Advisor
Growing up in Pittsford, Michigan, Trisha always knew she would return after college. Receiving her bachelor's in political science and english from Central Michigan University and then her master's degree in public policy from George Washington University, Trisha built her career in Washington DC's nonprofit world. She led campaigns to improve transportation, and helped negotiate land use policies that respect urban and rural communities across the country. After running the Detroit half- marathon a few years ago, Trisha decided that it was time to return home. Her professional passion lies in repairing inefficiencies and gaps in urban ecosystems. Personally, she gets giddy about horses, documentaries, fantasy football, finding the perfect apple and historic photography. In her free time she is on the board and serves as a mentor for EnvironMentors.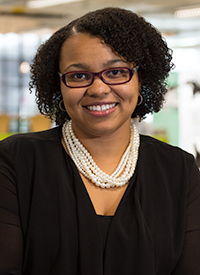 Shari Williams, Neighborhoods & Operations Program Manager
The desire to see sustainable and impactful change in her hometown of Detroit has guided many of Shari's decisions academically and professionally. In 2011, she took a risk by leaving her corporate job to pursue an opportunity that focused on community improvement. That year, she became a LISC AmeriCorps member at Focus: HOPE, focusing on safety programs within the HOPE Village Initiative neighborhoods. Despite the initial fear, this decision set her career in motion. She continued to work at Focus: HOPE long past her AmeriCorps term in other various roles and also took time to work with Transportation Riders United (TRU) to find solutions to mobility gaps in the region. Shari earned her bachelor's degree in interdisciplinary studies in social science at Michigan State University and is currently pursuing her master's in urban planning at Wayne State University.  A proud parent, Shari volunteers as a den leader with Cub Scouts of America.  In her spare time, Shari is normally with her son and husband watching movies, trying a new recipe or enjoying the outdoors by sledding, bike riding or swimming. Although time doesn't always permit, Shari also enjoys her time away from work and the boys scrapbooking and dancing. 
Gracieuse Xavier, Director of Corporate & Economic Development Strategy
As an immigrant growing up in Miami, Florida, Gracie understood from an early age the need for effective civic engagement to bring about change in communities. After earning bachelor's degrees in psychology and social work from Florida State University and CUNY College of Technology, Gracie recently returned to school for a master's in community art from Maryland Institute College of Arts). Exploring the intersection between art and social work has enabled her to be a natural storyteller and collector. This has also made her a strong advocate for building platforms that enable communities to showcase and narrate their own stories. Prior to joining the fellowship, Gracie served as an AmeriCorps program coordinator, administering programs focused on art and technology for young people, as a program manager in New York, working on strategies to help primarily immigrant parents navigate the public school system and as a case manager, educating the community on managed health care. For fun, Gracie enjoys dancing, photography, and volunteering.